Getting to know – Australian Women in Agriculture (AWiA)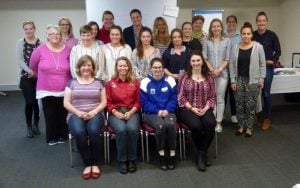 AWiA's #AgendHER participants in Canberra
Origins
Founded in 1998, AWiA is Australia's peak organisation for women in agriculture.
Membership
The AWiA members are part of a recognised and dedicated national network committed to ensuring that women influence the agricultural agenda. Members have diverse backgrounds representing primary production, research, education, service industries and small business from all parts of Australia and overseas. The AWiA voice reaches audiences of more than 600,000 per year and growing. Its viral reach of over 1,800 people per day does not include the 3,100 twitter followers, visitors to its web page, national and international members and industry partnerships/stakeholders.
Main activities
AWiA's main activities are its annual Conference, Buzz Newsletter, Members' Updates, General Meetings and Gatherings around Australia. A recent highlight for AWiA was the delivery of a training program for 20 young women from across Australia, made possible with the generous support of Merlyn Myer. The women spent three days in Canberra undertaking an #AgendHER program. With a focus on leadership; communication; dealing with difficult people; and effective advocacy, the aim of the training was to build the skills of the participants so that they can contribute to the agricultural agenda.
Major priorities for AWiA
Inform: To ensure that its members and the wider network are aware, engaged and well-informed
Influence: To ensure that women are consulted, considered and influence decision-making
Innovate: To ensure that the network is a dynamic, sustainable, creative, progressive and innovative organisation
Invest: To invest in women in agriculture, facilitating pathways for learning and leadership
Inclusive: To promote inclusivity and collaboration in community, business, industry, politics and culture, within Australia and
AWiA is committed to promoting the advancement of women in agriculture by:
Uniting and raising the profile of women in agriculture
Addressing rural and agricultural inequities
Working to ensure the survival of agriculture for future generations
Securing local, regional and international recognition
Achieving the status of a political and economic force.
Proudest achievements
The #AgendHER program. As a result of this training program 20 young women have grown personally and professionally and they will go on to make a difference to the agriculture (see image above)

2018 marks 20 years of Australian Women in Agriculture
The AWiA membership grew by 50 per cent in 2016/17. Its reach and influence is growing.
Biggest challenges for rural and regional women
Overcoming the geographical and communications challenge to engage with like-minded peers.
Finding and dedicating time for personal needs can be difficult. Women in rural and regional areas lead extremely busy lives and often spend all their energy and time taking care of other's needs before their own.
Accessing funded personal and professional development opportunities. Opportunities are a plenty in urban locations, however in rural areas they are often rare with significant travel required.
Keeping in touch
AWiA holds regular meetings with a minimum of three per year (two general meetings and one annual general meeting). The quarterly newsletter 'the Buzz', member's updates and social media. Members are also most welcome to contact any of the board.
Funding sources
AWiA is funded through membership fees. Additional activities are usually funded through sponsorship and grants.
Each month the VRWN will help women 'Get to Know' an existing women's Network from rural and regional Victoria. If you have a network you think we should get to know, please drop us an email at VRWNetwork@ecodev.vic.gov.au