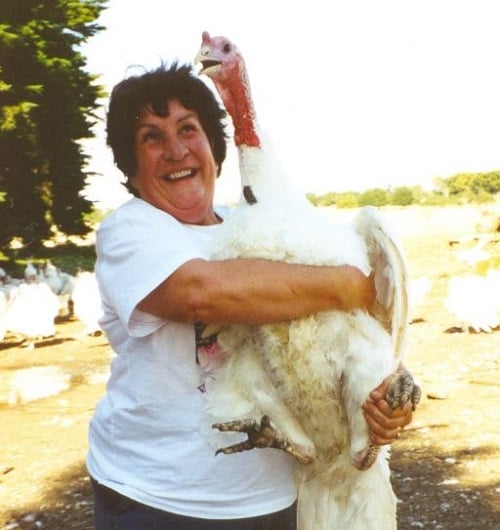 Above: Beryl Taylor on a turkey farm tour, part of Glenormiston Women on Farms Gathering, 1994. Source: Museums Victoria 
Anna Lottkowitz and Jenni Mitchell were appointed by the Department of Agriculture and Rural Affairs to initiate the Rural Women's Network in 1986. They were supported by a diverse group of women, including an informal reference group, and backed by former Minister for Agriculture and Rural Affairs, the Hon. Evan Walker.
"Jenni and I travelled 20,000 kilometres in the first five months around Victoria explaining the concept of the network — to share skills, knowledge and understanding and to increase women's visibility and participation in public life," explains Anna. "The priority need was information. Other needs were childcare, health, education and transport, both access to services and availability," Anna recalls. Former politicians Joan Kirner, Kay Setches and Caroline Hogg as well as women farmers such as Gippsland dairy farmer Mary Salce were also instrumental to the network's inception.
The original network ran for about 27 years, giving rural and regional women a voice in government. It connected and supported women so their efforts could be recognised and their many stories of ingenuity, strength and resilience shared. Its newsletter NETWORK was launched in February 1987 and became a vital channel for women to contribute to government conversations, share their stories and collaborate for change in their communities. Other states did not establish similar rural women's networks until at least five years later.
Anna explains the newsletter was an important communication platform where rural and regional women could be heard. They contributed stories, art, poetry, articles and letters. "What was extraordinary about this newsletter was that we, as government officers, were allowed to publish just about anything and if it was highly critical of government we could always get a response from government," says Anna. As the Rural Women's Movement gained momentum through community discussion groups in the 1980s, women were encouraged to tour each other's farms, increase their skills and gain strength and confidence from each other. This led to the first Women on Farms Gathering in Warragul in 1990, attended by 120 women from across Victoria.