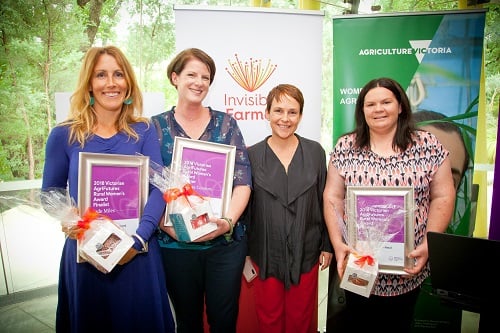 (L-R) Victorian AgriFutures™ Rural Women's Award finalist, Jade Miles, with winner Melissa Connors, Minister for Agriculture, the Hon. Jaala Pulford MP and finalist Cara Hadzig
Congratulations to Melissa Connors! Melissa won the 2018 Victorian AgriFutures™ Rural Women's Award for her program, This Farm Needs A Farmer. The inspired program matches retired expert local farmers with tree changers wanting to avoid rookie farming mistakes in their new enterprises.
Melissa said that after moving from Melbourne in 2012 to run a 10-acre hobby farm at Kyneton with no hands-on experience, the family's cattle and water management knowledge was transformed by expert advice from local retired farmer, Noel Jenner.
The two met by chance and a great mentoring relationship developed. Though this connection Melissa realised there was a hidden opportunity for retired farmers to offer their farming expertise to younger 'tree change' generations.
A $1,000 grant from the Macedon Ranges Shire Council Community Funding Scheme contributed to the birth of her program, This Farm Needs A Farmer. Its mission is to build stronger, more engaged communities through the program.
Melissa's win, announced on 20 March 2018, includes a $10,000 bursary to implement her project vision, a place in the Australian Institute of Company Directors course and the opportunity to represent Victoria at the national awards in September.
Melissa's project was judged to be a powerful tool for connecting communities, winning the award from a competitive field of 16 applicants.
Having applied for the AgriFutures™ Rural Women's Award at the last moment, Melissa's advice for others thinking of applying is, "Go for it! Even if you don't become a finalist, it will give clarity and direction to your idea — that investment of time is never wasted."
Find out more about the AgriFutures™ Rural Women's Award.
Watch the videos of this year's winners.