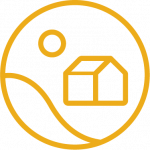 As the consumption of chicken meat increases in Australia and more export opportunities become available, the Chicken Meat industry will need to build new or expand existing facilities on existing farms.
Previous research identified a range of difficulties during the development application and assessment process for approval or extension of an existing chicken meat farm, with costs for a new farm approval exceeding $1.5 million.
Specific issues such as the assessment of odour impacts on neighbouring properties and areas, can be highly problematic. Consultation with relevant stakeholders highlighted that a national guideline could significantly improve the application process and potentially reduce the cost of industry expansion.
This project established a network of specialists and stakeholders to develop and publish agreed approaches to solve a range of current planning issues. The resulting national planning and environment guidelines—one for assessors and one for applicants—are available from AgriFutures Australia:
The aim of these guidelines are to help reduce compliance burdens (such as lower costs, faster development approval process and reduced incidence of court cases) and provide better planning and environmental outcomes for the future of the industry and the community.
For an overview of the development and purpose of the guidelines listen to this podcast with Eugene McGahan.
A more detailed discussion and walk through the guidelines is available in this webinar with Eugene recorded on 15 March 2022.
Related research
Integrity Ag Services conducted an extensive industry review and consultation in the recently completed Stage 1 project PRJ-010658: Streamlined planning and development in the chicken meat industry. These guidelines were developed as part of Stage 2.
Project details
Project code: PRJ-011090
Principal investigator: Eugene McGahan
Research organisation: Integrity Ag and Environment
Project duration: August 2018 – February 2021
Contact
Eugene McGahan, Agricultural and Environmental Engineers, Integrity Ag and Environment, eugenemcgahan@gmail.com
Annie Lang, Manager, Research (Chicken Meat), AgriFutures Australia, annie.lane@agrifutures.com.au
Learn more
Download the project summary here.
Visit the AgriFutures Chicken Meat Program website.