Story Mapping is a process that can be used to present extension information in a compelling way. It uses online maps to engage with a target audience and share extension messages with them online. It has a graphical and narrative approach, giving a multimedia experience to the user and does not require any coding experience to develop and deploy the maps. The output behaves like an interactive website.
Using a Story Map application, you can use maps, narrative text, images and multimedia, such as videos, in an integrated approach. It is a GIS (Graphical Information System) application.
The key to developing effective story maps is to have a clear story to tell and be sure you know your target audience.  This prevents the story map developer getting off track, as they get involved with using the technology.
Esri (https://storymaps.arcgis.com/en/) is one story mapping application that is being used by the Cooperative Extension Service in the United States. By clicking on the image below, you will see a gallery of story maps which shows you the potential of the approach.
A new feature is a crowd sourcing application, which allows users to input their own data to contribute to growing a story map.
Shane Bradt is a Cooperative Extension State Specialist and an Extension Professor at the University of New Hampshire. He presented a webinar on using story maps to engage your audience.  Please click on the image below to visit the webinar.
Two of Esri maps developers, Stephen Sylvia and Stegven Kitterman conducted a webinar: Story Map – Configuring and Customising Web Apps.
This provides greater detail on Story Maps and how they can be customised.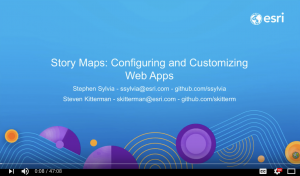 Content sources and further information
Esri Story Maps, https://storymaps.arcgis.com/en/