Agriculture Victoria's latest Livestock Farm Monitor Project (LFMP) for 2017-18 assessed the economic performance of 77 sheep and cattle farms across Gippsland, the South-West, and Northern Victoria regions. The project has a 48-year history of reporting livestock performance and in 2017-18, farm profits (adjusted for CPI) were the second highest in over a decade.
Farm economic performance of many sheep and cattle producers capitalised on previous year records with strong commodity prices leading to solid profits, despite dry seasonal conditions. Producers who had spread their risk over more than one enterprise and had tight control over variable and overhead costs were rewarded.
High and/or rising prices boosted gross farm incomes in what would otherwise have been a difficult season. Sheep producers experienced the greatest improvement in economic performance with merino wool and prime lamb price gains outperforming beef prices.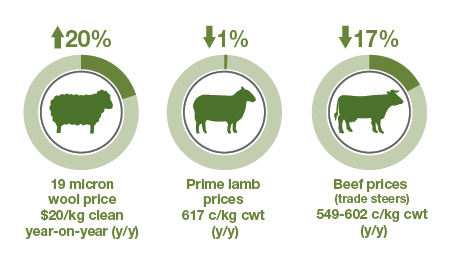 From a regional perspective, Gippsland had the lowest profitability of the three regions, as measured by return on assets (RoA); with a greater proportion of beef enterprises impacted by reduced beef prices and ongoing challenges with variable rainfall impacting on pasture growing conditions. Northern Victoria experienced similar challenges to Gippsland with a 37% decrease in farm profits from the previous year, while South West producers reported a 20% decrease in farm profits due to a delayed autumn break placing pressure on pasture availability.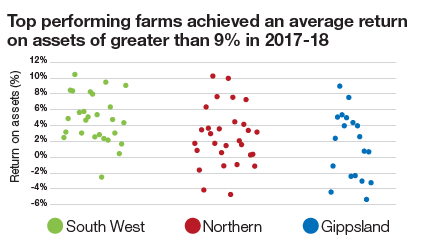 The LFMP shows farmers can perform well in all regions with the average of the top 20% of farms recording a RoA of greater than 9%. They were able to achieve this with costs being 17% lower than the average of all farms, especially overheads and owner operator allowance contributing to their strong performance.
The take home messages from 2017-18 are:
Control and focus on your variable and overhead costs

Spread your risk across more than one enterprise where possible

Management decisions are critical to minimise risk to dry seasonal conditions; timing of destocking, supplementary feeding production and costs

Consider selling percentage of production direct to processors to lock in price to assist with managing risk

Focus on parameters you can control; increasing wool cut, kilograms of carcass weight of lamb or beef produced per hectare, marking percentages, stocking rate and labour efficiencies
Take a look at the 2017-18 LFMP results overview here
Further Information
For further information regarding the Livestock Farm Monitor project visit the website