VFF Peninsula Branch – Our future of green wedge agriculture
When:
12 April 2019 @ 6:00 pm

-

8:00 pm
Where: Baxter Community Hall
Organiser: Victorian Farmers Federation Peninsula Branch
Event Navigation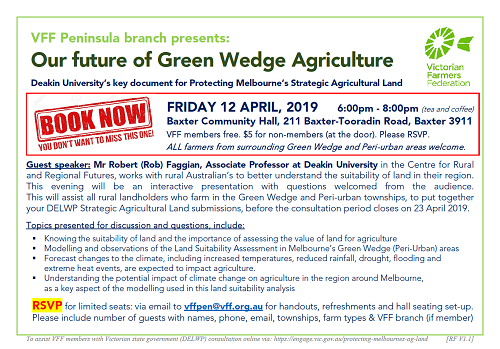 VFF members free. $5 for non-members (at the door). RSVP essential.
ALL farmers from surrounding Green Wedge and Peri-urban areas welcome.
Guest speaker: Mr Robert (Rob) Faggian, Associate Professor at Deakin University in the Centre for Rural and Regional Futures, works with rural Australian's to better understand the suitability of land in their region. This evening will be an interactive presentation with questions welcomed from the audience. This will assist all rural landholders who farm in the Green Wedge and Peri-urban townships, to put together their DELWP Strategic Agricultural Land submissions, before the public consultation period closes on 23 April 2019.
RSVP for limited seats: via email to [email protected] for handouts, refreshments and hall seating set-up.
Please include the number of guests with names, phone, email, townships, farm types & VFF branch (if member)
Background reading documents to better inform you on the content to be discussed for this event, include:
• Deakin University (2018) Land Suitability Assessment in Melbourne's Green Wedge and Peri-Urban Areas. CeRRF. Johnson, M., Sposito, V., Faggian, R. https://engage.vic.gov.au/download_file/13656/2273
• University of Melbourne (2019) Roadmap for a resilient and sustainable Melbourne foodbowl. Carey, R., Larsen, K. and Sheridan, J. doi.10.26188/5c92e85dd6edf https://research.unimelb.edu.au/foodprint-melbourne/publications/roadmap-for-a-resilient-city-foodbowl . There are seven Agricultural food-bowl reports, infographics and policy information in this series, see online https://research.unimelb.edu.au/foodprint-melbourne/publications
• DELWP (2018) Protecting Melbourne's strategic agricultural land. Victorian Government encourages everyone to join the conversation about what strategic agricultural land we protect and how. https://engage.vic.gov.au/protecting-melbournes-ag-land