Installing spray irrigation systems – Is it worth it?
When:
24 October 2018 @ 10:30 am

-

1:00 pm
Where: Waverly Pastoral
Organiser: Alexis Killoran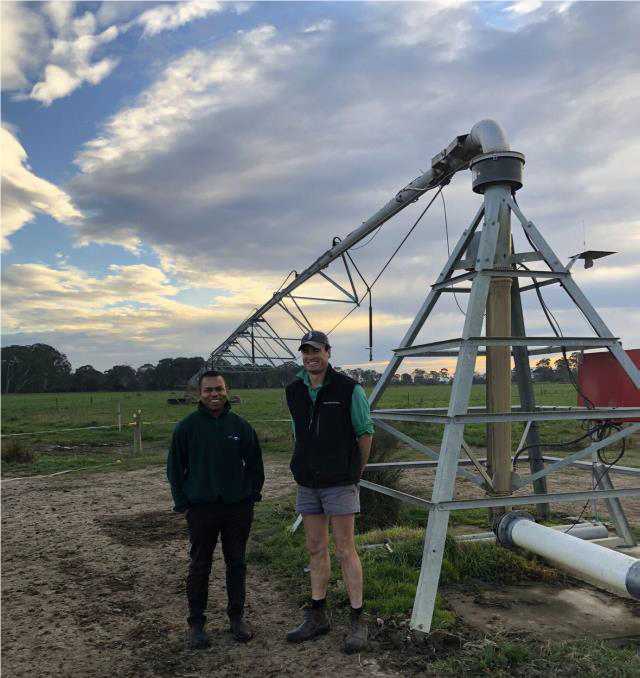 Wednesday 24 October 2018
10.45 am – 1pm
Waverly Pastoral – Alex and Olivia McArthur
292 Bundalaguah Rd, Maffra
Alex and Olivia McArthur of Waverly Pastoral are a part of a growing dairy enterprise undergoing extensive capital growth. The McArthurs have a strong focus on improving efficiencies and production, whilst reducing overall costs within the business.
Come along to see the improvements to the irrigation system that have been made by installing sprays. They will also discuss what they have learnt and how they are managing the challenging seasonal conditions.
Was it worth it? Come along and find out.  Elizabeth Shotter from EFS Consulting will be presenting the findings of the project.
Itinerary:
10:45am – Meet for a cuppa at the dairy at 292 Bundalaguah Rd, Maffra (Back Water Rd)
11am – Farm walk to look at the pivot with discussion on total cost of project, water savings and lessons learnt.
12pm – BBQ lunch provided
Finish by approx. 1pm.
For further information:
Contact the Agriculture Victoria irrigation team Maffra – Sarah, Khan, Alexis or Janice on (03) 5147 0800
Centre Pivot or Lateral Move irrigator – what to consider?