Tocal Beekeepers' Field Day online
When:
October 21 @ 9:00 am

-

12:00 pm
Event Navigation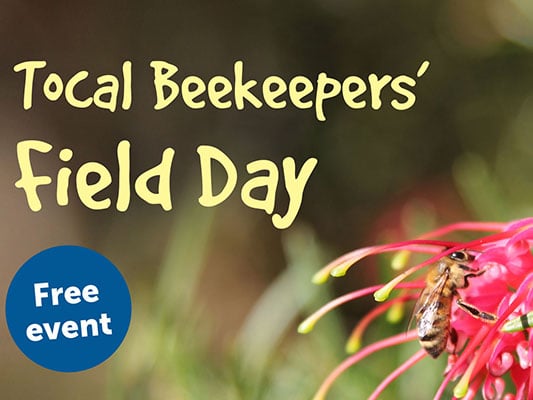 The 44th Annual Tocal Beekeepers' Field Day will be held on Saturday 21 October 2023 online from 9am to 12pm.
Hear from some experts in beekeeping and ask your questions in a live Q&A session.
Register for the event and receive updates via https://www.eventbrite.com.au/e/44th-annual-tocal-beekeepers-field-day-tickets-727134558037
---
The 44th Tocal Beekeepers' Field Day in 2023 will be online and streamed through Facebook and YouTube!
This year's event is a collaboration between the NSW Department of Primary Industries, Tocal College, The Amateur Beekeepers Association of NSW, The NSW Apiarists Association and the AHBIC.
The field day will feature a 3-hour program of informative presentations and a Q&A session, with a focus on Varroa and the current transition to management in NSW.
Speakers include:
Anna Noon, The Groundswell Collective
Danny Le Feuvre, AHBIC
Dr Cooper Schouten, ACIAR
Elizabeth Frost, Technical Specialist Honey Bees NSW DPI
Emily Noordyke, Technical Assistant, Plan Bee
Kelly Lees, Education Officer Honey Bees NSW DPI
Madlen Kratz, Honey Bee Industry Development Officer
Mark Page, Honey Bee Training Coordinator
and Rod Bourke, NSW Bee Biosecurity Officer
Send your questions for the Q&A before the event to: [email protected]
Attendance is free!
---
Where to watch it:
https://www.youtube.com/user/NSWTocalCollege
For updates, follow on Facebook at www.fb.me/TocalBees