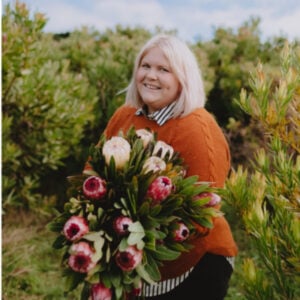 Victorian tech entrepreneur Nikki Davey was announced the 2023 Rural Women's Award National Winner at a Gala event at Parliament House in Canberra on 12 September 2023. View the announcement on the AgriFutures Australia website.
Nikki is a co-founder of Grown Not Flown – a digital platform that connects consumers with their local flower growers. A budding flower farmer based in Glenmore in Central Victoria, she is passionate about sustainable and regenerative agriculture.
Identifying a need for technologies dedicated to small-scale growers, Nikki put her skills in business and digital product development into developing a solution that reduces 'flower miles' and supports the local cut flower industry bloom. Since 2021, Grown Not Flown has grown to more than 3,500 users in 30 countries.
Along with the title, Nikki receives a $20,000 prize from Award Sponsor Westpac. These funds will support her to develop a Grown Not Flown knowledge hub so that flower growers can tap into tips, tools and best practices.
Accepting the Award from Commonwealth Minister for Agriculture Murray Watt, Nikki acknowledged that she brings unique skills to the agriculture sector.
"I am not a natural farmer, I don't know how to fix a fence, and I would prefer to stay indoors when it is windy outside," she said. "What I am good at is problem solving, working with technology and data, and believing that we can change the world with our ideas."
Nikki was selected from a group of five incredible women from across the state to be named the 2023 Victorian State Winner in April this year, receiving a $15,000 Westpac Grant. She was previously a Victorian State Finalist in 2022.
This is the second successive year Victorian women have been acknowledged in the National honours, with Bendigo woman Kimberley Furness named the 2022 National Runner Up for her efforts to profile and celebrate female-led businesses through her work as founder and publisher of OAK Magazine.
Find out more about previous Victorian Rural Women's Award Winners and Finalists on the Agriculture Victoria website.