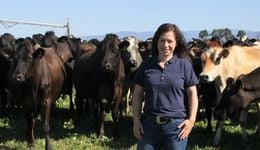 Growing up in an agricultural community, Jess Knight had a feeling farming might be for her. Taking the scenic route to get into dairy farming, she's pushed against the advice that "girls don't do ag" and stepped up in her business and her community.
Tell us about your background and what you do. What does your day to day look like?
My name is Jess Knight and I own a dairy farm near Stratford in Gippsland with my husband Stephen and our three boys, Kade, Blake and Chase. I didn't have a traditional path into agriculture. I came from a rural background growing up in the small town of Corryong in the state's North East. I had family who farmed but I grew up in town and didn't know a lot about farming. I wanted to study agriculture in school but was told by a careers advisor that 'girls don't do ag'. So I went to university in Melbourne to study Law/Arts though I think at the time I always knew I would end up back in agriculture.
I accidently fell back into agriculture when I met my husband who was a farmer.  I was in the final year of my Arts/Law degree when we got married and decided to have kids before career. I am really passionate about sharing our farming journey with people so I have an Instagram page where I share everything happening on the farm. I have just completed my Post Graduate Diploma of Agribusiness at Marcus Oldham and in 2019 I was a recipient of the Young Farmer Scholarship for my study at Marcus Oldham and it was through this that I learnt about the Young Farmer Advisory Council which I became a member of in 2020. I was interested in this opportunity as I felt young farmers had a lot to say but often didn't know how or who to communicate to.
A day in my life can vary greatly depending on the time of year and what jobs need doing. The only routine I have is school drop offs and pick ups. In between I can be doing bookwork, cattle work, moving young stock, rearing calves, moving fences, washing up at the dairy or any other number of jobs. I think the diversity of farming is something that really appeals to me.
What prompted you to apply for a Victorian Rural Women's Network scholarship?
The Observership Program came into my inbox one day and seem like the perfect fit for me at that time. I was interested in applying for a board position but wasn't sure if I had the skills or qualifications needed. This program provided the opportunity for me to attend board training sessions to gain skills needed for a not-for-profit board. Due to COVID, the training nights ran by the Australian Institute of Company Directors were run online which for me made things a lot easier. Being 3 hours from Melbourne, a mum to three young boys and running a farm, the opportunity to complete things online has made it easier for me to attend.
Being able to attend board meetings for 12 months without the pressure of actually being a voting member gave me a chance to take the time to absorb all that was being said to gain a better understanding of the board environment.
What did you get out of the Program?
I had expected to be paired with a board in Melbourne so I was really excited to be paired with the East Gippsland Catchment Management Authority Board which was local to me. My time as an observer has shown me how different personalities are essential to a well run board and the ideas and views brought forward are all accepted and considered. This program has provided me with many contacts who I know I can approach in the future, and networks from the wider community. It has impacted my journey as a leader by seeing people who care so passionately about the organisation, the environment and the community that it is involved with. It has shown me how important these types of people are and the important role they play.
I have recently been appointment as a member of the GippsDairy Board and I feel that my 12 months as an observer provided me with experience and skills that will be highly beneficial for my position.
Why is scholarship support important?
This scholarship provides rural women with the chance to take on leadership opportunities and training that there may be financial barriers to. All of the training is traditionally completed in Melbourne which means long distances to travel and overnight stays. This is also the case if you are paired with a Melbourne based board. For mums it also means organising childcare for young children which can be very costly. I know that I have looked at programs previously and said it just too hard to organise and justify the cost of being involved. This scholarship gives rural women the support to take on these types of programs.