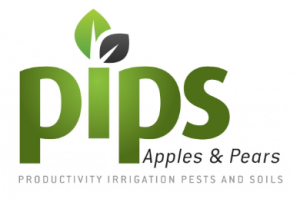 Establishing native vegetation in orchard inter-rows to create habitat for beneficials is not an easy undertaking.
As part of a PIPS 3 research project, (AP19002 Stengthening cultural and biological management of pests and disease in apple and pear orchards) staff at Agriculture Victoria and the University of Tasmania have spent a lot of time carefully investigating the following questions:
what native species are local to the area?
which native species will provide a diversity of habitats for different beneficial insects to reside or shelter in? (both grasses and herbaceous plants)
will there be enough native species to provide a range of flowering times and nectar as a food sources throughout the year?
which species are likely to establish within the orchard environment given the soil profile, fertiliser history, local climate and orchard management regime?
The research project is running two trial plots – one at Tatura Victoria and one at Ranelagh Tasmania.
Using the criteria mentioned above, experts at the Euroa Arboretum in north-east Victoria were consulted to assist in the selection and supply of plant species likely to be suitable for establishing within the inter rows of the Tatura pear orchard.  The project team also enlisted the help from revegetation specialists, Flora Victoria to  tackle the 'how' questions:
was direct seeding the best approach?
how should they prepare the ground for the seeds?
what spraying was necessary to manage the weed seed bank?
A mix of native grasses and herbaceous shrubs were selected to meet the above criteria, seed bed preparation started in April, and sowing completed by hand broadcast in May.
Researchers have also taken into consideration how natives will persist in a commercial orchard environment, with thought put into surviving traffic and slashing, and the need for plants not to become too high and create 'ladders' into trees or become a nuisance.
Practical considerations on which chemical sprays to use were ground-truthed with industry members as part of the PIPS 3 funded IPDM Community of Practice.
A trial plot is also being planted using species suitable for the Tasmanian environment at Ranelagh in Tasmania by Stephen Quarrel at the University of Tasmania, as part of the same research project.
Progress reports will be published on this website. Recommendations for species and methods for sowing will hopefully be available to the Australian apple and pear industry at the end of the research project in 2023, although recommendations will be specific to the location and growers will need to consider their local circumstances. The research will also measure how successful the native vegetation is at providing habitat for beneficial insects and how that translates into improved IPDM outcomes.
The Strengthening Cultural and Biological Management of Pests and Diseases in Apple and Pear Orchards (AP19006) project is a part of  Apple and Pear industry Productivity, Irrigation, Pests and Soils Program (PIPS3 Program), funded by Hort Innovation using the apple and pear research and development levy, contributions from the Australian Government and co-investment from Agriculture Victoria. Hort Innovation is the grower-owned, not-for-profit research and development corporation for Australian horticulture.
Further information links
Watch this website for further updates.
For further information on the PIPS 3 research project see https://apal.org.au/pips3-strengthening-cultural-and-biological-management-of-pests-and-diseases-in-apple-and-pear-orchards/ or contact Raelene Kwong at Rae.Kwong@agriculture.vic.gov.au
Article reviewed by Dr Raelene Kwong (Agriculture Victoria) and Dr Stephen Quarrell (UTAS).