As a part of the Apple and Pear IPDM project, Case Study Orchards from each state are documenting their journey implementing IPDM. Each grower is working with their advisor or an expert associated with this project to implement an IPDM plan and document their progress. Case Study Orchards will post regular updates so others can follow what has been implemented and learn from the outcomes.
TASMANIA
Orchardist:
John Evans, TAS
Background : John is the 6th generation of orchardists. He is a sole operator of the 40 ha orchard, with 25 ha under production and the rest being new plantings. By 2023 the majority of the orchard will have been planted at 0.7m X 3.5m
Case Study Update: Geeveston TAS – March 2019
NSW
Orchardist:
Jeremy Smart, Batlow NSW
Background: The orchard is approximately 30 hectares in size and is solely comprised of apples. The orchard is one of Batlow's highest in elevation and generally receives cool late-Summer and Early Autumn night temperatures helping to ensure good colour development.The Smarts store, pack and distribute through Batlow Apples, predominantly to Sydney and other major Eastern seaboard markets and retailers.
Case Study Update: Batlow NSW – March 2019
Case Study Update: Batlow NSW – February 2019
VICTORIA
Orchardist:
David Finger, Yarra Valley VIC
Background: The Fingers are 6th generation orchardists who have been in their present location for 60 years. The 25ha apple orchard focuses on club varieties including Jazz, Smitten, Ambrosia and Envy with all fruit supplied to Montague Fresh. Although located in the Yarra Valley, condition can be deceptively hot and dry across summer and autumn with reliance on drip irrigation. A large proportion of the orchard is netted.
Case Study Update: Yarra Valley VIC – February 2019
IPDM Action Plan for 2019/20
WESTERN AUSTRALIA
Orchardist:
 Mark Scott, Nannup WA
Background: Mark has been orcharding since 1992 and is running Nannup Fresh Fruit.  The orchard is 20ha – 8ha apples and pears, 10ha stone fruit, 2 ha of mixed varieties, encompassing about 24,000 trees. Mark contributed to the original WA IPDM manual by Martine Combert.
Case Study Update: Nannup WA – March 2019
Orchardist:
 Terry Martella (B Martella & Sons), Kirup WA
Background: Terry is a 2nd generation orchardist, and works with his brother Joe and sons Basil and Mark. The business runs a 35ha intensive orchard that is all trellised and planted at 3m x 1m, and 30% is fully netted. The crop consists of apples, plums, cherries, and some pears. They grow, pick, and store but packing is contracted out. Terry has been implementing IPDM for a few years now and believes it is necessary in our environment where the use of chemicals is viewed harshly by customers.
Case Study Update: Kirup WA – March 2019
QUEENSLAND
Orchardist:
 Daniel Nicoletti, Stanthorpe QLD
Background : Daniel is a third generation orchardist. The business is a collaboration between Daniel, his partner Toni, and Daniel's parents. The orchard is 40 ha, with about 95% being apples (Gala, Granny Smith, and Pink Lady) and the remaining 5% stone fruit. Most of the fruit is sold into the domestic fresh fruit market.
Case Study Update: Stanthorpe QLD – March 2019
ADVISOR PERSPECTIVE:
The Nicoletti's use the services of Elders agronomist and pest scout, Andrew Hennoste, for monitoring and advice. Andrew's perspective on IPDM in the region can be found here:
SOUTH AUSTRALIA
Orchardist:
 Joe Ceravolo, Adelaide Hills SA
Background: Joe is a 4th generation orchardist in a family business with his parents and brother Tony, who looks after marketing and the juicing plant. They operate from 7 properties with crops including apples, pears, cherries, strawberries and a juicing plant. They have about 120 ha of apples but this varies as unproductive or unprofitable varieties are dropped and replaced with new ones.
Case Study update: Adelaide Hills SA – March 2019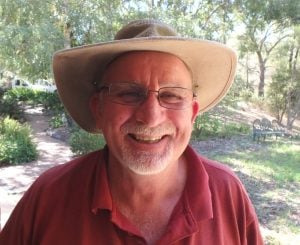 Orchardist: 
Kym Green, Lenswood, Adelaide Hills, SA
Background: The family business involves 12.5 ha apples and cherries. Kym is a 5th generation farmer in partnership with brother Peter. They grow club varieties that are distributed through cooperative and through Ceravolo. Kym started using IPM in 1980, beginning with mites.
Case Study update: Lenswood, SA – March 2019