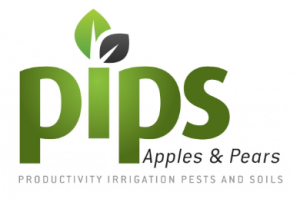 Agriculture Victoria researchers in the IPDM Cultural and Biological control project are collecting soil samples from trial plots at the Tatura Smart Farm in Victoria in preparation for the planting of native species as part of the conservation biological control study.
Studies have shown that native plants can provide habitat, pollen, nectar and alternative prey for beneficial insects that predate on pests. But few studies have demonstrated the benefits of planting native species within orchards, despite the advantages that could be gained through pest control and possibly, soil improvement.
One of the key obstacles to establishing native species in orchards is soil chemistry, particularly high levels of phosphorus. So soil samples are needed to give a baseline of P, so that the researchers can ensure good establishment of vegetation to be able to monitor the effects of the beneficial insects.
Seed collection has already been done for the natives to be planted this autumn, and it will be interesting to see whether the level of phosphorus in the interrow is as high as the level under the trees, and whether that has an impact on native plants successfully establishing.
Further Information
For more information on the project see https://apal.org.au/pips3-strengthening-cultural-and-biological-management-of-pests-and-diseases-in-apple-and-pear-orchards/ or contact Raelene Kwong at [email protected]
The Strengthening Cultural and Biological Management of Pests and Diseases in Apple and Pear Orchards (AP19006) project is a part of  Apple and Pear industry Productivity, Irrigation, Pests and Soils Program (PIPS3 Program), funded by Hort Innovation using the apple and pear research and development levy, contributions from the Australian Government and co-investment from Agriculture Victoria. Hort Innovation is the grower-owned, not-for-profit research and development corporation for Australian horticulture.