The fact that this year's International Women's Day coincides with Labour Day in Victoria is fitting – the annual celebration grew out of workers' rights movements. We asked two female leaders in agriculture to share their thoughts – current chair of the Young Farmer's Advisory Committee, Sarah McLean, and previous chair Sarah Thompson.
International Women's Day began in 1910 and is celebrated on March 8 each year, and is now an officially delegated United Nations day. It is an occasion to reflect on how far women have come in their struggle for equality, peace and development. It is also an opportunity to unite, network and mobilise for meaningful change.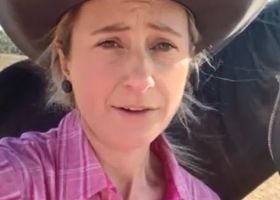 The global UN Women theme for International Women's Day (IWD) 2021 is "Women in Leadership: Achieving an equal future in a COVID-19 world". This theme celebrates the tremendous efforts by women and girls around the world in shaping a more equal future. Women bear the brunt of problems ranging from poverty to climate change, but they also possess assets and talents to solve them.
The contributions of female leaders are often less visible, which makes it even more important that we stop to acknowledge these leaders. Thinking about the women you know who are leading in their community or industry, and the efforts of women of older generations, how have women supported you or helped to pave the way for you personally, or the work you do?