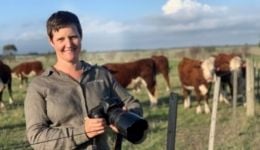 For Jayne Newgreen, an opportunity to help bring to life a new and unique business sees her combining her experience in photography and marketing, with her passion for animal welfare and food ethics. The Regional Leadership program allowed her to adjust her approach to reach her goals.
Tell us about your background and what you do. What does your day to day look like?
I grew up in Gippsland, as a 'townie' on the edge of dairy farming country and spent most daylight hours outside of school 'down on the farm' at the neighbours place – riding horses, mucking in to help feed the chooks and round up the cows. Even after moving to Melbourne for study and progressing to work in the advertising industry for over 10 years in the field of photography, my affinity with animals and the land stuck. In 2010, together with my partner Christopher and our Kelpie Kyah, we moved to the Goldfields region of Victoria, settling on a bush block in an off-grid home with enough space for a veggie patch, chook yard and a studio from which to pursue my photography.
Extremely passionate about ethical food choices and community connectivity, I identified and pursued an opportunity to combine these passions, with my skills in photography, and growing interest in marketing, to work with regional food producers and promote their products direct to customers. At the same time, I was growing much of my own produce and even raising chickens and pigs for the table. Through a fortuitous set of events, I met my fellow co-founders of Provenir and we set about to launch Australia's first mobile on-farm abattoir – inspired by a desire to improve animal welfare and produce the best quality meat.
Today I work full time with Provenir in the role of Marketing Officer, although as a co-founder in a start-up company the role goes beyond my title when required. My day to day is extremely varied, and may have me working from home, in the butchery, or out on farms visiting our partnering farmers. At any given moment I may be conducting market research, working on new product development, liaising with graphic designers, planning upcoming promotional campaigns, organising events, responding to in-bound enquiries, writing press releases and communicating with the media or analysing and reporting on recent marketing campaigns. Or, I may be working to develop our traceability system and digital provenance platform and looking at internal systems to implement improvements and efficiency gains, and nurturing employee engagement and brand advocacy through internal marketing. I've also been known to jump into the butchery and pack customer orders when needed, and I've just signed up to undertake my apprenticeship in butchery in order to gain an in-depth knowledge of our product firsthand.
What prompted you to apply for a Victorian Rural Women's Network program?
I have always worked for myself, for many years as a freelance photographer and then as a freelance marketing manager. My passion for animal welfare and good food saw me become one of the founding team to establish Provenir, a fully integrated meat processing company operating Australia's first mobile on-farm abattoir. In this new role, as co-founder working in a small team within a lean start-up environment, and then in my current role as Marketing Officer of the company I knew that I needed to change the style I had worked in previously as a sole trader. The Regional Leadership Program came at a perfect time as I was looking to develop my understanding and skills to enable me to grow professionally and lead effectively.
What did you get out of the Regional Leadership Program?
Through the program I hoped to be become more self-aware, confident, decisive, and authentic in my leadership style, in order to bring the best out in myself and those I interact with. Today, one year into the two-year program, I feel that I'm on the right course to achieve these goals. I have learnt a great deal about myself and feel I now have a suite of practical tools that I can put into practice every day – to further myself and also assist those around me to achieve their best.
I've very much enjoyed the opportunity to be part of a network of up and coming leaders, getting to know people from different backgrounds who are working a variety of different fields. I've even enjoyed the challenge of being well out of my comfort zone. I'm looking forward to the months ahead, working with a team to undertake our community project together, and putting the lessons we've learnt over the past year into practice.
Why is scholarship support important?
My co-founders and I have put a large amount of 'sweat equity' into the business to help realise our long-term vision and build a sustainable business – which meant taking a significant cut to our short-term income capacity. The scholarship support made the opportunity for me to participate in the Leaders program attainable – without the support I do not think it would have been possible.