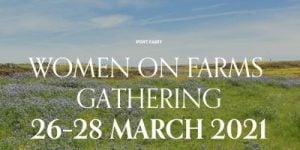 The Annual Women on Farms Gatherings have been held across Regional Victoria for 30 years. After a temporary break in 2020, it is even more important to gather with like-minded friends and collaborators (COVID-safe, of course), with the upcoming Women on Farms Gathering in Port Fairy.
This year's theme Women for All Seasons is a nod to changes in our lives as well as the seasons we encounter each year on the land. The event will showcase the spirit, skills and dignity of the women who produce so much of the food and fibre for the world.
The organising committee have worked hard to provide a diverse range of workshops for the 2021 event – focusing on opportunities for innovation and leadership for rural women, alongside practical skill development and network building, guest speakers and farm tours.
The three-day event is sure to inspire women interested in any area of the agriculture sector. This is an opportunity for friends old and new to enjoy a weekend together with lots of learning on the agenda – from micro-enterprises and sustainability, to civic participation and accounting.
Women on Farms Port Fairy will run from Friday 26 March until Sunday 28 March 2021. Registrations for the event are now open. https://www.wofgportfairy.com.au/