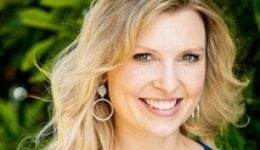 Though her experience is in media, Kirsten Diprose's leadership contributions spill in to many other areas. As a Board Director and newly minted podcaster, her leadership journey continues to evolve as she grows her interests and her influence.
Tell us about your background and what you do.
I didn't grow up on a farm or study agriculture at school – I 'fell into farming' when I married my husband. We live on a mixed farm near Caramut in south-west Victoria where we grow crops and run sheep and cattle. We also recently took on some dairies near Simpson, which has been a very new learning experience, but one I am very much enjoying!
My career background is in media. I worked for the ABC as a reporter and presenter for 15 years, mostly in Melbourne but also regional Victoria. I still occasionally present the weather for ABC News Breakfast. These days I am focusing more on how I can use my skills in Communications in the fields of agriculture and education. I am currently the Podcast Mananger for an agriculture technology firm, the Agthentic Group, which has the podcast "Agtech… So What?" and I am a tutor for Deakin University, mentoring cadet journalists at regional newspapers around the country as part of a Country Press Association program. I am also a Board Director at South West TAFE.
Recently, I've launched a podcast of my own in collaboration with another inspiring rural woman, Jackie Elliot, called Ducks on the Pond. It explores some of the challenges and nuances of life as a rural woman.
I should add, I'm a mother of two boys – who are nearly 7 and 5. So running around with them also keeps me very busy!
What prompted you to apply for The Observership Program?
I actually found the Observership Program through a social media post by the Victorian Rural Women's Network, which was promoting leadership opportunities at the time. I applied for the Program because I had been interested in getting involved on boards (but didn't know how). The structure of the program appealed to me – you attend lessons run by AICD teachers on the functions of the board, risk, finance etc while also being placed on a not-for-profit board as an 'Observer'. This means you attend the meetings, can participate by sharing your ideas or taking part in a sub-committee or working group – but you don't actually get to vote on anything (or have any of the legal responsibility for the organisation, as a board member would).
I had expected that, if successful, I'd be placed on a board in Melbourne – but I was delighted to hear that South West TAFE was part of the program, which meant I could be in involved in an organisation in my region and also in the area of education – which I'm passionate about.
What did you get out of the Program?
Well, ultimately, I became an official Board Member at South West TAFE – which, while not a direct outcome of the program, it certainly wouldn't have happened without it. I was fortunate that at the end of the 12 month Observership program, two vacancies came up on the board of SW TAFE – so I applied for one and was successful. So I was very lucky with the timing of it all. Certainly, without the program, I would not have had the skills to apply for the position – and being able to observe the board for 12 months gave me a really good grounding in how it functions and the issues being considered.
Why is scholarship support important?
It's very important for rural women, just because of the large distances we have to travel. Last year, because of COVID-19, I actually didn't need to travel to many sessions in Melbourne, as the lessons switched to online, as did the board meetings. But if that didn't happen, I would have been travelling long distances and needing overnight accommodation in Melbourne to attend The Observership lessons. Therefore a scholarship takes away that financial barrier that can be there for women who want to access an opportunity, but when they weigh up the costs (especially if they also need childcare), they simply don't apply in the first place. I think it's vital rural women have access to this Program, just like people in Melbourne have – because it's such a fantastic opportunity.