From 3-11 October 2020, the Botanic Gardens Biosecurity Network is hosting a surveillance blitz for brown marmorated stink bug (BMSB) (Halyomorpha halys) which is a significant threat to agriculture and a nuisance pest in urban settings.
BMSB is a shield bug native to east Asia and has been introduced to North and South America and Europe. It is known to feed on more than 300 hosts, including agricultural crops such as nuts, grains, berries, cotton, citrus, soybean and some ornamental and weed plant species.
There have been many interceptions of BMSB at the border which have all been stopped from entering Australia. These detections highlight the risk of BMSB hitchhiking into Australia on cargo, goods and personal effects and demonstrate why it is important to look for this pest.
BMSB often overwinter on trees (under bark, under limbs or in cavities) or in buildings, vehicles and containers. When overwintering in large clusters it becomes a significant nuisance pest in urban areas. This pest also produces an unpleasant odour when disturbed.
You can participate in the blitz by looking for and securing suspect BMSB in your backyard or local botanic gardens and reporting your findings with the MyPestGuide™ Reporter app. By taking part in the blitz you are helping protect Australia from exotic plant pests.
What to look for
BMSB adults are 12–17 mm long, mottle brown coloured, shield shaped bugs. Whilst the colour varies, they are generally a mottled with a reddish tinge. They also have distinctive banding on their antenae and on the outer edges of their abdomen.
The nymphs are orange and black when they first hatch but quickly develop a similar colouration to the adults.
Eggs are white to yellow-orange, or even light green, approximately 2 mm diameter, and are laid in clusters of  25–30 on the underside of leaves.
BMSB has a very wide host range and the symptoms and types of damage differ between host plants. Images of symptoms on many hosts are available from stopbmsb.org
While feeding, the saliva of the BMSB damages the plant, generally causing misshapen fruit, dimples on the fruit surface and patches of brown or corky flesh inside the fruit. There may also be sap seeping from feeding wounds on some crops, such as almonds.
In Australia, there are several stink bug species that look similar to BMSB including native stink bugs. Identification is often difficult and requires expert knowledge. A guide to identifying BMSB and other similar bugs by the Department of Agriculture, Water and the Environment is available here.
How to get involved
From 3-11 October 2020 look for BMSB in your backyard or local botanic gardens. Report what you find using the MyPestGuide™ Reporter app.
To make a report:
Download the MyPestGuide™ Reporter app or head to the website to use the online MyPestGuide™ Reporter tool.
Catch any suspect BMSB in a secure container.
Take a photo of the suspect BMSB.
Turn on location on your mobile phone and inMyPestGuide™ Reporter
Select 'Botanic gardens' in the 'Send report to' field (click 'Show More' if it is not visible).
Report where the suspect was found for example "on a cucumber leaf in my garden in Canberra" in the 'Where' field.
Write "suspect BMSB" and provide a description in the 'I found' field.
Press 'Continue' to submit your report.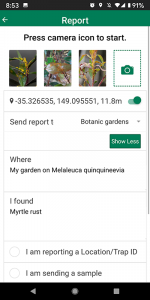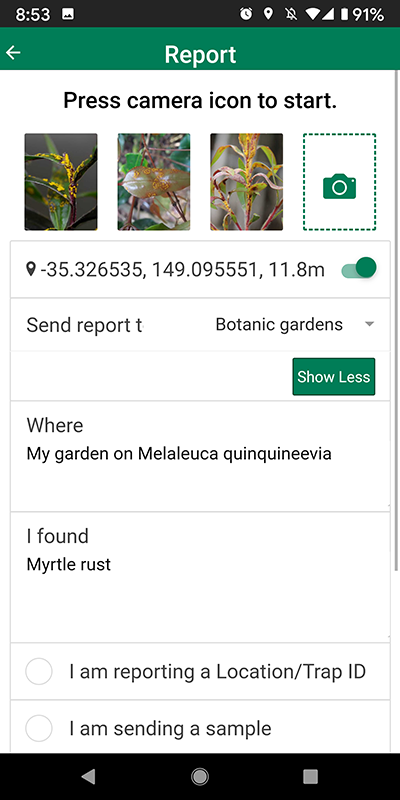 REMEMBER: Select the 'Botanic gardens' project from the 'Send report to' drop-down list in MyPestGuide™ Reporter to make sure we see your report.

If you find an unusual plant pest or disease outside of the Botanic Gardens Biosecurity Network surveillance blitzes, please report it though MyPestGuide™ Reporter or call the Exotic Plant Pest Hotline (1800 084 881).
To learn more about making a report though MyPestGuide™ Reporter check out this article.
For a summary of how to participate in the brown marmorated stink bug blitz download this flyer.