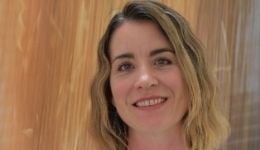 With training and skills in both agriculture and communications, every day for Pru Cook is diverse and challenging. And with technology shaping her career both in terms of subject matter and location, she is looking ahead to life post-COVID-19 with passion and positivity.
Tell us about your background and what you do. What does your day to day look like?
I grew up on a farm in the Wimmera and feel incredibly lucky that I got to do so. I studied agricultural science, then completed a Graduate Diploma in Journalism as I felt that my skills were more on the communications side than research. My first job was at the Department of Primary Industries (now Agriculture Victoria) in Horsham. At this stage, smartphones, tablets, apps and social media were beginning to gain traction in agriculture (particularly the grains industry) so one of my first projects was developing and delivering training resources to help farmers, advisors and researchers to use these tools for information and networking. I also did a lot of work with organisations helping them see how social media could be used to engage with and understand farmer audiences.
From there, I worked at the Grains Research and Development Corporation (GRDC) in Canberra where I implemented their first social media strategy and developed and managed all their accounts. I then returned to the Wimmera and worked at the Birchip Cropping Group, managing the Research and Extension team as well as a number of extension projects. This included the GRDC Southern Pulse Extension Project, which supported farmers in growing high-value pulse crops in areas where they had not been traditionally grown.
In August 2020, seven months after having my first child, I decided to start my own business, Nine Creeks Consulting. I offer extension, project development/management, stakeholder/community engagement and grant writing services. What I love about my day to day is that it is so incredibly varied. This week, I have been exploring a young farmer program, farmer attitudes to emissions reduction, value-adding to agriculture, the coexistence of agriculture and renewable energy, novel extension delivery approaches and I have a meeting later today about the local bushfoods industry. Next week I have some work to do on virtual fencing and strategies to help grain farmers manage frost. I do most of my work at home, online which is fantastic for giving me flexibility to spend plenty of time with my little one.
Why is it important to you to be a leader in your industry and community?
I never deliberately set out to be a leader, in fact, every time I'm approached to participate in a leadership role, my first response is to feel that I'm not suitable.  Good ol' imposter syndrome! As I become more confident in my abilities, I suppose what I contribute to leadership roles I'm in is:
Considering the views of the end user – I'm a big advocate of actually talking to the people who will be affected by your decisions.
Focusing on the future, not just the here and now – I especially have a passion for supporting young farmers.
It's also important to have visibility of female participation as this encourages other women to put their hands up.