Congratulations to the 11 talented women who have secured funded places in the 2020 Victorian Rural Women's Leadership and Mentoring Program (the Program).
The Program offers rural, Victorian-based women, who are involved in agriculture or the agriculture supply chain, the opportunity to apply for a funded place on established leadership and mentoring courses associated with the Victorian Rural Women's Network's four partnerships.
Up to 14 rural women will attend programs this year which are tailored for women at all stages of their leadership journey, from emerging to experienced leaders. By mid-2020, the program, which launched in 2018, aims to have placed 27 rural women on leadership programs with more opportunities available in 2021.
The Program partners with Regional Leadership, Leadership Victoria, Women Victoria and The Observership Program. Through these partnerships, funded places are available on the following courses in 2020. Programs still available for 2020 include Regional Leadership's Alpine Valleys Community Leadership Program (one funded place for an emerging leader) and Leadership Victoria's Women's Leadership Program (two funded places for senior leaders).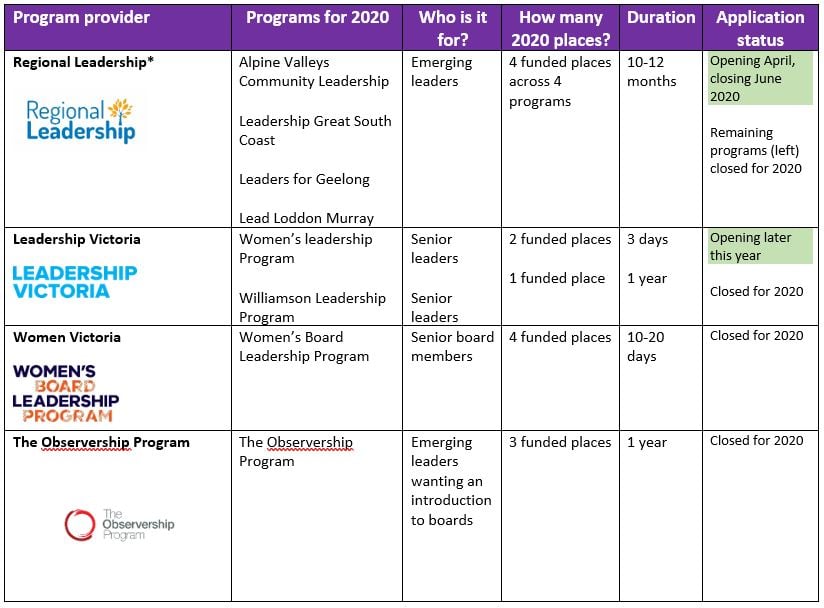 * Note: Applications for funded places on 2021 Regional Leadership programs (Leadership Wimmera, Leadership Ballarat and Western Region and Goulburn Murray Community Leadership Program) open later this year. The Victorian Rural Womens Network aims to offer places on all 10 Regional Leadership programs over a three-year period to include applicants from across Victoria.
Find out more about the Victorian Rural Women's Leadership and Mentoring Program.
Pictured: Kirsten Diprose (left) and Georgie Selman secured funded places on The Observership Program as part of the Victorian Rural Women's Leadership and Mentoring Program. The Observership Program offers talented, emerging leaders an introduction to boards