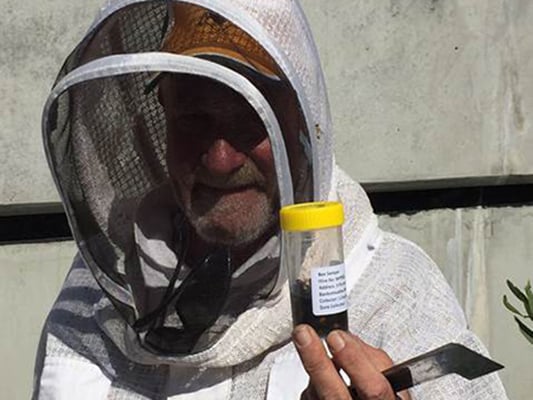 Bee Biosecurity Officer Surveillance
NSW Department of Primary Industries
---
Having kept bees both European and Natives for over 30 years and currently based at Tocal College working with the DPI bee team, Mark is involved with the National Bee Pest Surveillance program for NSW administered by Plant Health Australia, an early warning system to detect new incursions of exotic bee pest or disease and pest bees. The Program involves a range of surveillance methods conducted at locations considered to be of most likely entry throughout Australia such as international air and shipping ports, collected data provides technical, evidence based, information to support Australia's pest free status claims during export negotiations and assists exporters in meeting export certification requirements.
Also delivering awareness initiative's related to bees such as bee registration, American foul brood awareness and sugar shake month and the soon to be implemented Australian honey bee industry biosecurity Code of practice through community engagement events and specific interest group engagement and also assisting Tocal Honey bee education with training needs and delivery of Bee biosecurity education.
Inspired at around 12 yrs by reading Eric. C. Rolls, They All Ran Wild- A story of pests on the land in Australia first published 1969, I continued to grow my knowledge over the years on the impacts that exotic pest and disease can have on our farming communities and smaller holdings producers.
Delivering about the importance of general biosecurity in the Peri Urban communities and groups that utilise the broader environment for outdoor activities, assisting with the protection of the pathway to the broader farming community who are vulnerable to emerging or exotic pest or disease may be a key to early detection and possible eradication, the more eyes ears and noses out and about with the knowledge on who and how to report should enhance our growth in Agriculture 
Community awareness and members of the public that are educated on possible pests and disease, cross information and education to other services that are environment related and have access to the peri urban space are the extra activities needed to protect vital industries, economies and communities.