Podcasts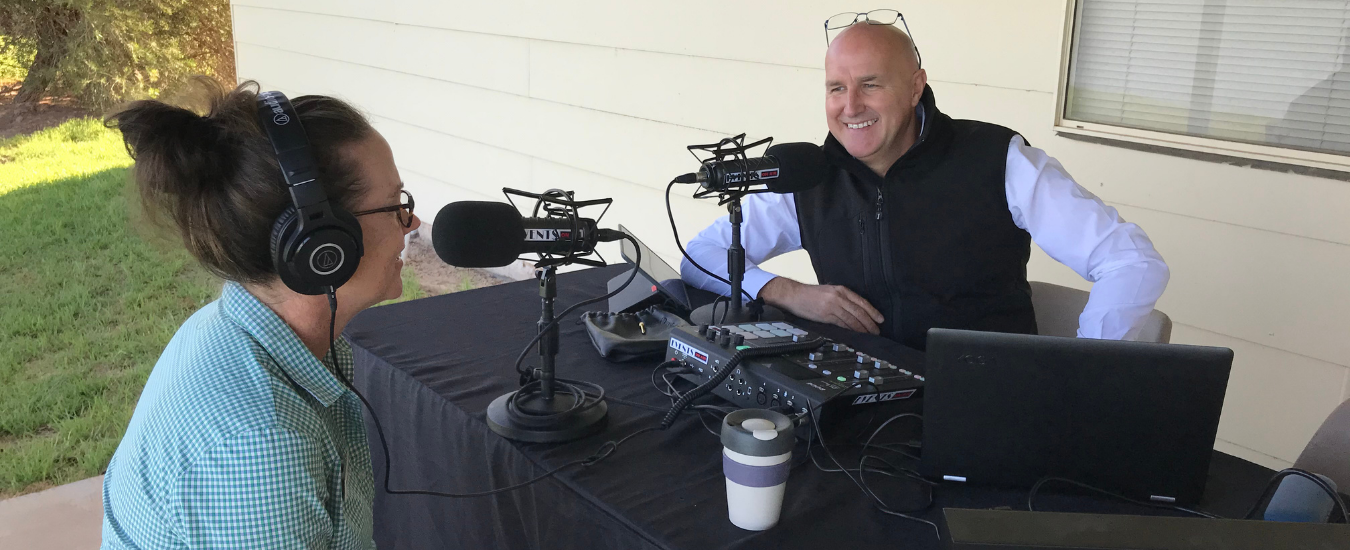 What is a Podcast?
Podcasts are audio recordings that you can listen to on your computer, iPhone or Android device, tablets and other portable devices.
Podcast episodes can be downloaded one by one and you can play them later offline. 
You can also save them on a USB, so you can play them in the ute, tractor or car without needing mobile service. 
Podcasts are available via a web browser, or via podcasting apps on Android and iPhone.
Do they require my full attention?
Not necessarily. Since podcasts are usually in audio format, you can listen to them in the background while doing activities that do not require your full attention.
For example, you can play the latest episode while driving around the farm, while harvesting or sowing, or even the seemingly endless hours driving kids around!
Do I need to be tech-savvy to listen to a podcast?
Not at all! Even if you feel a bit lost in the digital age, listening to podcasts will be just like listening to the radio.
Here are some links to get podcasting. We have separated these podcasts into ones relevant to Australian farmers, and ones from overseas which may not be completely relevant but equally as interesting
 Australian Podcasts
AgVic Talk – Just over a year ago Agriculture Victoria released their first podcast series, AgVic Talk. Tune in to hear about problems and solutions including bushfire recovery, drought and dry seasonal conditions, weather and climate, as well as some fantastic inspiring stories from young farmers including:
Everything Agribusiness – Farms Advice started their podcast during the coronavirus lockdown to increase their reach to those who may feel disconnected from their community and still want to grow their agribusiness. Everything Agribusiness has episodes for all aspects of farm businesses, from crops and livestock to data and records, and even a little bit of horticulture!
MSF Farm Talk – Mallee Sustainable Farming launched their podcast channel, Farm Talk in early 2020. Farm Talks brings farmers, researchers and Ag industry connections together to chat innovative farming practices to help build a sustainable farming future for Mallee growers.
AgTech So What?  – These Podcast episodes talk with leading innovators working at the intersection of agriculture and technology. 
Profitable Farming – This podcast series is about increasing the profitability of your farm so you work smarter and not harder. I liked Episode (25). This episode talks about how setting a major dominant goal will beat procrastination and bring you a lot more focus.
AgWatchers – Andrew Whitelaw and Matt Dalgeish dive into the what, why and how of agricultural markets in Australia, chat with guest presenters and offer industry insights with lighthearted discussion.
Beyond the Farm Gate – Rural Bank have recently launched their first podcast series. Hear some great Australian agriculture stories from farmers who have survived challenges, farmers who have run innovative and unique agribusinesses, and farmers who are balancing work and family in rural Australia.
GRDC – Listen to the GRDC Podcast and other podcasts covering issues and topics affecting Australian grain growers.
Rabobank's RaboResearch Food & Agribusiness Australia/NZ – A team of 90 analysts working in local teams across the worldwide Rabobank network. They generate knowledge, and develop views and insights on businesses, topics and developments in the food & agribusiness sectors across the globe. All analysts have their own sector specialisations—ranging from meat and fish to dairy, vegetables, fruit and floriculture, coffee and cocoa.
Commodity Conversations – Mecardo's market analysts bring you Commodity Conversations, discussing the in's and out's of the agriculture industry and the issues that are shaping its future.
Growing Agri People – Sally Murfet from Inspire AG believes the power of agriculture is in its people. Her podcast centres around inspiring and celebrating people in agriculture, and shares ideas on growing your human capital.
Marcus Oldham AgTalk – Hosted by the director of the Centre for Agribusiness Study at Marcus Oldham, David Cornish. He talks with the movers and shakers of the Ag world about the issues affecting the agribusiness sector.
The Yarn – Join Australian Wool Innovation Ltd as they explore wool's global supply chain; speaking with woolgrowers, manufacturers, designers and everyone in between, about how they're working with the world's miracle fibre.
Cattle Station Classroom – The Cattle Station Classroom by Central Station podcast covers different aspects of the Australian cattle station industry and answers your submitted questions.
Future Farmers Network 'Mentor of the Month – "Mentor of the month" is a new initiative for FFN in 2019-20, a podcast that features mentors from across the agricultural sector. FFN members will have access to a candid conversation with an industry leader, to learn about their career journey, learnings, recommendations and the opportunity to ask their own questions.
There's an elephant in my paddock – Journalist Jayne Cuddihy presents an agricultural podcast that brings together farmers, scientists, consumers, industry and thought leaders to try and answer those tricky but crucial questions everyone else is avoiding.
The Feedback Podcast –  The Feedback podcast from Meat & Livestock Australia (MLA) features stories, news, information and interviews. This includes everything from red meat producers to policy makers and celebrity chefs to scientists. The podcast – which also contains a snapshot of news from MLA – is for anyone who has a keen interest in the red meat and livestock industry.
On the ground podcast  – Meat & Livestock Australia (MLA)  presents On the ground, a fortnightly podcast series providing the latest information and insights about Australia's domestic and international red meat markets.
Podcasts from abroad
AgTech So What? – These Podcast episodes talk with leading innovators working at the intersection of agriculture and technology.
Planet Money – Not always agriculture related, but Planet Money has some great hidden ag gems such as:
Further Information
Follow this link to an article by Australian Farmers, who have provided a list of their favourite ag-related podcasts.
Follow this link for Farm Table's list of their favourite agricultural and farming podcasts.
We're sure there are many more podcasts of interest to young farmers …. So if you have other Podcasts that you think we should add to the above list, email youngfarmerbusinessnetwork@gmail.com, Direct Message to our Facebook Group – Young Farmers Network or leave a comment below.