Water pumps are one of the big users of diesel in agriculture, along with tractors and field machinery. During NSW DPI's first round of Farm Energy Forums held in 2019, farm irrigation specialist – David O'Donnell- spoke on pump efficiency and savings. A link to David's presentation can be found here.
David has worked in irrigation in Tasmania and NSW and has found that energy savings of 20% were commonly achievable through irrigation system improvements. He noted that the irrigation systems often evolve over time with add-ons or "make do" solutions becoming permanent.  But this means significant improvements can often be made by matching the system flows and pressures correctly to output. One example David gave was of a centre pivot that should be running at 35 psi, but it was running at 70 psi due to an oversized motor. Over the many years of its operation, this set up chewed up a lot of unnecessary power.
David also noted the matching of output can be managed by a variable speed drive which slows the motor and reduces power usage. This is a better option than throttling the output of a pump to suit the irrigator, which uses full power all the time, (see photo below).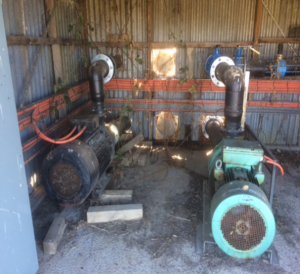 Pumps throttled at discharge, photo courtesy of David O'Donnell
Another commonly seen energy efficiency loss point is a constraint in the delivery pipe, which adds to the overall head that the pump is delivering to, eating up power. This is a particular problem if you're trying to service a centre pivot (high volume, low pressure) with an old pumping system designed for a traveller irrigator (higher pressure but lower flows), where the power needed to drive water through the smaller pipes increases enormously, (see photo below).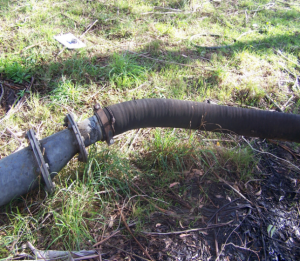 Pivot mainline suppied by smaller feed,  photo courtesy of David O'Donnell
A popular option to reduce diesel use in pumping is solar power. In operations with large irrigation needs where constant pumping is common (such as cotton) a system may use solar power by day and a diesel generator at night. Jon Elder and Karin Stark explained their solar diesel system at our first of our Exploring Beyond Diesel series of webinars. They now move about 60% of their water using solar power.
If you'd like to find out more about how much they saved you can check out their slide presentation here in Beyond Diesel #1 –session 5  or you can view the recording of their presentation via this Youtube link