Webinar recordings
This page contains information and links to recordings of the following webinars and events:
Wednesday 19 May 2021, Dubbo. On-farm renewables are a valuable opportunity for farmers to cut costs and emissions. This inaugural event brought together farmers, agriculture and energy consultants, peak bodies and government representatives to share stories of on-farm renewables, their business case and discuss what's driving the transformation of energy use in agriculture.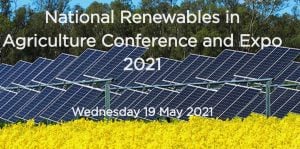 Renewables In Agriculture Conference
In this webinar Agriculture Victoria hosted a panel discussion with three managers, Dasha Sherif (I.M Sweet Australia), Jason Shields (Plunkett Orchards) and Rowan Little (Montague Orchards) who shared their experiences in implementing sustainable energy technologies, improving energy efficiency and generating renewable energy.
Bioenergy is generated from organic materials such as manure, straw or other organic residues through processes including anaerobic digestion and combustion.
The webinar explored anaerobic digestion with Stephan Tait, Senior Process Engineer at Scolexia and a Senior Research Fellow at the University of Southern Queensland. Following on Sohum Gandhi, Director of Enriva, walked us through a number of thermal bioenergy systems Enriva has designed and implemented on-farm.  Kelly Wickham, Industry Development Coordinator – Energy at Agriculture Victoria rounded out the webinar. Kelly provided an overview of the current bioenergy systems operating and under development in Victoria including on-farm applications.
In this webinar recording, Geoff Lodge, CEO of GV Community Energy explores solar on-farm. During the webinar Geoff explained where solar is suitable on-farm, getting the most out of solar, understanding the process of connecting to the grid to export excess electricity generated and the maintenance requirements of solar.
Are you wanting to reduce energy costs on-farm? Do you want to increase farm energy efficiency? Want to know more about renewable energy options? The Agriculture Energy Investment Plan (AEIP) assessments and grants provide an opportunity to explore the answers to these questions.
Are you wanting to reduce energy costs on-farm? Do you want to increase farm energy efficiency? Want to maximise the return from renewable energy sources? The answers to these questions and more were explored by Gabriel Hakim in the Energy Efficiency on Dairy Farms Webinar as part of Agriculture Victoria's Energy Webinar Series.
In this recording, Geoff Lodge, CEO of GV Community Energy explores the answers to reducing energy costs on-farm by leading us through the electricity grid and connections, electricity tariffs and charges, and how to get the best deal for your farm.
Our reliance on diesel and Australia's limited production of it, along with the environmental impacts, led NSW Department of Primary Industries to produce a series of online forums exploring alternatives and transitions for agricultural production systems that are possible beyond diesel reliance.
With increasing electricity prices and a transition to decarbonise our businesses, innovation will be crucial to the wine industry in overcoming challenges and capitalising on opportunities to reduce costs and carbon emissions. In this webinar we hear directly from three diverse NSW based farmers who recently completed the journey from concept to deployment of energy efficiency hubs, including on-farm energy generation with solar panels, flow batteries and peer-to-peer energy trading.