The old Slim Dusty song "Looking Forward Looking Back" sprang to mind as I started to write about the NSW Department of Primary Industries' H2Cuts trailer, which provides information on saving energy and new and alternative energy technologies. It's a practical  example of a circular economy, collecting and recycling waste hair products produced during its activities for resource recovery. The song probably came to mind because it links the familiarity of the past with the uncertainty of the future in a similar way to H2Cuts. In the words of the third verse:
"There are strange days
Full of change on the way
But we'll be fine, unlike some
I'll be leaning forward, to see what's coming"1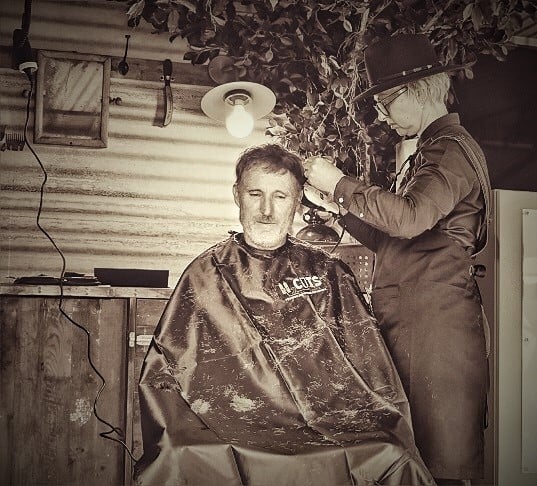 Designed to look like an old woolshed, H2Cuts trailer is powered by modern technologies including solar PV panels, a lithium-ion battery and a hydrogen fuel cell. The hydrogen fuel cell will be part of the new zero carbon energy future, but very few folk have seen one, which is one of the exciting things about the H2Cuts trailer. We show farming people at agricultural field days and other events something new that will be part of their future and often dispel many of the fears that may be tied into their understanding of hydrogen power.
The hydrogen fuel cell enables transfer of electrons which are used to power the shed using hydrogen gas, with the only by-product being water.  The process is described in detail in the  video narrated by the creator of the H2Cuts energy system, David McCowatt of Process Gas Solution.  The use of green, zero carbon hydrogen gas is planned and will power the unit when it becomes available.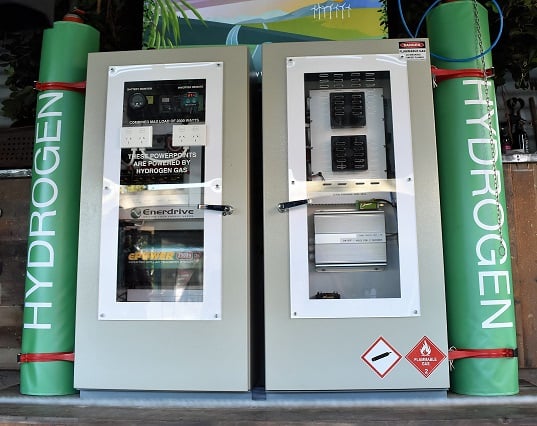 To broaden the appeal, we "shear" people instead of sheep at public events!  We use professional hairdressers linked to Sustainable Salons to ensure a quality cut and limit the use of tar in nicks.  In 2021 H2Cuts had four outings but the cancellation of major field days due to Covid-19 curtailed our plans for more. We are looking forward to being at a range of field days this year which are listed on the NSW DPI website.  So, if you see us at a field day, drop in for a chat or get in the "catching pen" for a trim!
1 Writer: Donald Walker